Past Exhibits
D.J. Bott - Spring 2014
I have endured a lot of emotional pain and internal suffering, and it has always been hard for me to appreciate what was in front of me. My artwork addresses these personal issues, while also serving as my own personal recovery process, as well as illuminating issues that relate to the queer community, as well as abusive relationships. Digital typography is the main form that I use in my pieces, combining my graphic design skills with my poetry skills to create a concrete, bittersweet experience, one that tells a universal story, across many printmaking mediums, such as lithography, screen printing, and intaglio. My work not only deals with contrast as a design element, but also as a concept--the darker, sharper pieces emphasize the lighter, playful pieces, and vice versa. My pieces are constantly exploring something new, and observers are learning along with me.
– D.J. Bott (djbott.squarespace.com)
---
Josh Katz - Spring 2014
My art is heavily inspired by graffiti, visionary psychedelic painters, and long walks through the woods. I look here for pattern ideas that can be translated into stencils. My paintings are composed of layers of these stencils done in colorful spray paint. I often add acrylic paint and beeswax to my work in order to achieve more depth and texture. I hope to use art as a tool to empower people and communities in order to enact positive social change. I'm interested in fundraising for causes that I feel passionately about through my art sales. This has led me to focus on spray painting clothing and smaller canvases which can be made and sold quickly. Currently 10% of all sold work is being donated to Save Our Shores, a beach protection group in Santa Cruz, California. My current goals include refining my clothing designs and finding new platforms to sell and promote my work. Please contact me at jwkatz91@gmail.com with questions concerning me or my artwork. -Josh Katz
---
Queer Theory Art - Spring 2014
These posters were made by students in HISC80L "Queer Theory" in Fall 2013. The assignment was to order the course content and materials visually or graphically in a personally meaningful way. The exhibition is co-sponsored by MAC (Multicultural Awareness Club) at Stevenson, the Feminist Studies and History Consciousness Departments, and supported by the Cantu Queer Center. I hope you enjoy it. -Johanna Rothe (Course Instructor) jrothe@ucsc.edu
---
Jana Marcus - Transfigurations - Winter 2014
In 2003, I started photographing and interviewing transgender people on their notions of masculinity and femininity as they changed genders. By 2006, after photographing nearly 150 trans men and women and distilling down their stories, Transfigurations— the touring exhibit —was born. This startling and groundbreaking photographic series on the transgender
community has now toured across the country—from galleries in New York City to universities such as Stanford—to rave reviews and curatorial acclaim.
The photographs illustrate how gender is both real and illusory, natural and constructed. The subjects, a cross section of all ages and ethnic backgrounds, share their thoughts, in their
own words, on transitioning from one sex to the other. By documenting the transformation from one sex/gender to another, the photos explore the importance of the body to gender identity as well as the effects of transformative practices on the body, creating a reality beyond ordinary experience.
My initial investigation into the world of transgender men and their ideas of masculinity resulted in Transfigurations: The Making of a Man, which was my MFA thesis at San Jose State
University in 2005. After graduating I continued shooting new work, this time turning my lens on transgender women and their notions of femininity. The new work, along with a selection of the earlier work, became Transfigurations,and premiered in 2006 at the Santa Cruz Institute for Contemporary Art - The Attic.
I am greatly honored that the trans community has embraced this work and together we have seen the power of photography bring positive change to minds and hearts, giving their
community a voice where they may not have had one before, to the general public. Today, the transgender community is emerging into its own place in history, as a new movement, expanding the language of gender and sex. People had been asking me for years to bring the work into book format. Unfortunately I was unable to find an agent to represent the book to publishers, due to the subject matter. Without an agent it has been impossible to solicit to publishers. Those publishers I was able to speak with loved the work but ultimately declined because photo books are very expensive to publish and they didn't feel the transgender theme was one they could bank on. Thanks to Kickstarter.com and over 100 generous supporters, we raised enough funding to publish the book, and it official came out in September, 2011.
Thank you to everyone who helped make this important work possible. Artists can't complete their visions without public support! —Jana
About Jana Marcus:
Jana has been creating award-winning documentary photography for over 20 years. She is a professional photographer in the California Bay Area focusing on the documentary. editorial
and performing arts genres. Her work has been exhibited across the United States and extensively published in newspapers and magazines. Jana received the UC Berkeley Center for
Photography's International Photojournalism Award for her series After Midnight Youth Subcultures of New York City and she was named one of 50 Exceptional International Photographers by Exposure of New York in 2010. Her latest book Transfigurations received the
Best GLBT Non-Fiction Book of 2012 by the Independent Publishers Book Awards. Her photographyhas also won many prestigious awards including the Best Photo of the Year in both
2004 and 2005 by Photo District News of New York. Jana received her MFA from San Jose State University, a BA in Community Studies from the University of California, Santa Cruz, and studied photography at The School Of Visual Arts in New York City. Jana's first book, In The Shadow of the Vampire: Reflections From The World Of Anne Rice, was published by Thunder's Mouth Press of New York. She frequently lectures on the subject of documentary photography.
~From janamarcus.com
---
Kiera Stasny - Fall 2013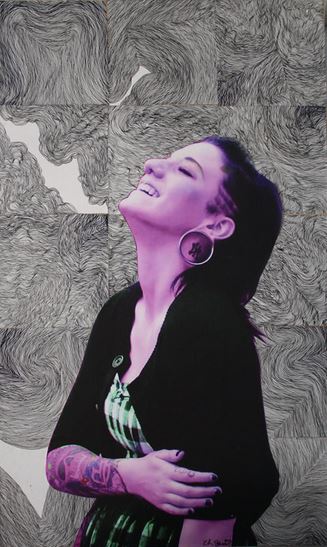 Line drawing is a form of meditation where thought is unbridled. The hands guide the work while the mind is free to swim in the patterns and designs forming. Each individual square takes hours to complete, allowing the mind to completely disconnect. The lines converge to create soft textures within these completed works invoking a sense of serenity with the juxtaposing image of a girl laughing and the subdued reddish tone. These pieces were completed during a tumultuous time when I began to comprehend and appreciate the meditative powers of line drawings. I am a senior art major and anthropology minor at UCSC. I work in the mediums of illustration, photography, mixed media, and sculpture.
---
Emily Binder - Fall 2013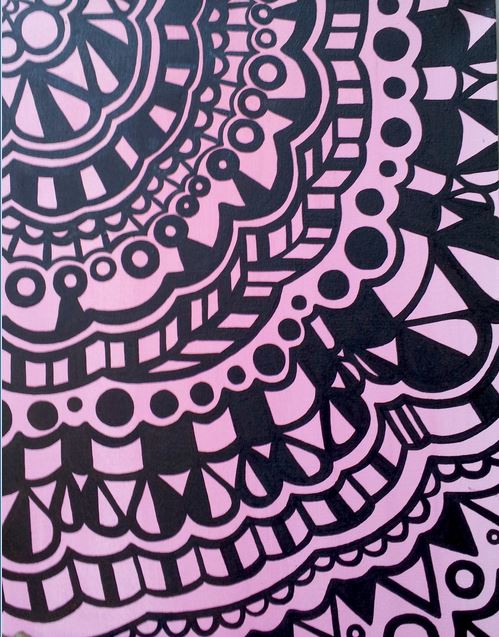 My work portrays the strength that can be found in solitude and specifically in female independence.  Although our society has come a long way in making it possible for women to work and live without being supported by men, there are still underlying issues of dependency that many face today.  Combined with patterns that represent the mix of chaos and organization in our modern world, these figures symbolize the notion that all people, men and women alike, still hold the capacity to live in confidence with their own actions.
---
Jerry Ruiz - Spring 2013
                                             UCSC Alumnus, Crown, 1977    
Jerry Ruiz is an amateur photographer based in Pasadena, California.  Ever since he first purchased an Asahi Pentax 35mm SLR camera in the early 1980's a few years after graduating from UC Santa Cruz, Jerry has been fascinated by the art of photography.  Over the years he has obligingly photographed many weddings, anniversaries, birthdays and other important familial gatherings, however, more recently, he has focused his eye on landscapes and inanimate objects, particularly during his travels throughout Mexico. With the creativity provided by a digital SLR camera, in Jerry's case, a Canon Rebel XS, he has captured images ranging from the brightly colored ceramic and clay pots proudly displayed on the balconies of homes in Guanajuato, to the immense facades of the colonial architecture of churches in San Miguel de Allende and San Luis Potosi, to the stunning sunsets of Mazatlán that are featured in this exhibit.
When not taking photographs but still satisfying his urge for art, Jerry, as a co-founder of the Academy of Special Dreams Foundation, strives to increase public awareness, recognition and appreciation of the creative talents of people with disabilities by providing opportunities that encourage, promote and showcase their artistic expressions.
Artist's Statement
Nestled where the Pacific Ocean meets the Sea of Cortez, Mazatlán, affectionately known in Mexico as "La Perla del Pacífico" ("The Pearl of the Pacific"), has long enchanted both residents and visitors alike with the natural beauty of its beaches and the serene sound of the "olas altas" ("high waves") crashing against the shore.  Many have written and sung about this hidden jewel but one in particular succinctly captures its essence.  In his song "In Mazatlan" Eric Burdon wrote, "I dreamed of a place that is always on my mind…where the blue waters run down the mountain-side to the sea…you've never seen such a sight who makes the day of the night, the wonders your eyes behold, in little Mexico, so your joy you cannot control."  Once you have gazed upon the dazzling colors of the evening skies of Mazatlán, you will always return if not in person, in your dreams.
---
Irene Reti - Winter 2013

About the Photographer: Irene Reti is the director of the UCSC Library's Regional History Project, an oral history office that documents the history of the campus and of the Central Coast. One of her favorite oral history projects was Out in the Redwoods: Documenting Gay, Lesbian, Bisexual, and Transgender History at UC Santa Cruz, 1965-2003 available on the Library's website at http://library.ucsc.edu/reghist/oir.exhibit/index and in paperback from the Lionel Cantú Center.
She graduated from Kresge College in environmental studies and women's studies in 1982 and has been an out lesbian staff member for the past 27 years. In addition to her work as an oral historian, Irene has been the publisher of HerBooks/Juniper Lake Press since 1984, a literary lesbian feminist press. She has written several books; her most recent is Kabbalah of Stone, a lyrical and suspenseful novel that explores gender and sexuality in Medieval Spain.  
Recently Irene has rediscovered a passion for photography and loves photographing the landscape of UCSC, the place she has called home for the past 34 years. For Irene, photography is a form of prayer, meditation, listening, connection, discovery, and unification with the environment.