Deb Abbott, M.A., M.F.T., Founding Director (Retired 2015)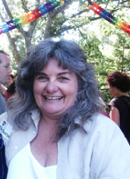 Deb has come full circle at UCSC. She was an undergraduate during the 70's, majoring in biology and writing. She never stopped loving the campus and community, and except for a couple of brief forays out-of-town, has been in Santa Cruz ever since.
After graduation from UCSC she worked in various local nonprofits; she was a longtime member of the socialist/feminist Santa Cruz Women's Health Collective and was the founding executive director of WomenCARE, a local resource center for women with cancer. In 1988, she received her master's degree in clinical psychology. For the past 20+ years, she has had a private counseling practice. Prior to coming back to UCSC, Deb was an adjunct professor at John F. Kennedy University and continues to love teaching. She has published everything from scholarly articles to lesbian erotica to a bestseller called From Wedded Wife to Lesbian Life. Along with her professional activities, for over a decade she was a dedicated volunteer whitewater raft and seakayak guide with Environmental Traveling Companions, an organization specializing in making outdoor adventures accessible to people with disabilities and to innercity youth.

In November 1997, Deb became the founding director of what was then called the Lesbian, Gay, Bisexual Community and Resource Center at UCSC. She says she has been counting her lucky stars ever since. She loves being back under the redwoods and working alongside all of the wonderful queer and queer-friendly folks on the UCSC campus. She feels passionate about helping queer UCSC students who have survived their challenging high school days, thrive at UCSC and beyond.

Oh, and what does she do for fun? She loves swimming, kayaking, and knitting. She loves growing veggies in her Capitola garden and cooking them into a tasty vegetarian stew. She's a consummate reader and plays a mean game of Scrabble. She loves hanging out with her wide circle of family, friends, and cat companions. It's a good life!