LGBTQIA+ Peer Education Program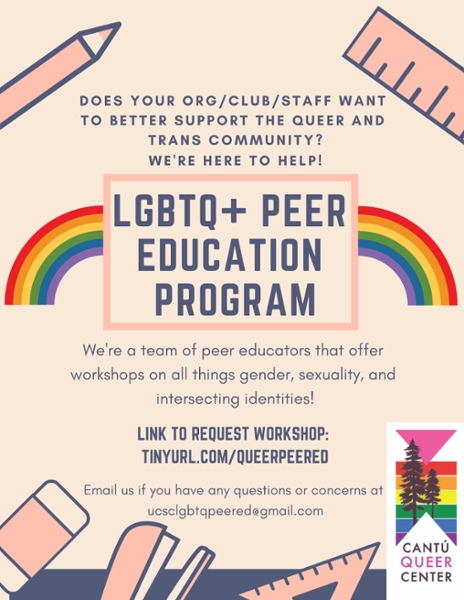 Does your org/club/staff want to better support the queer and trans community? We're here to help! The LGBTQ+ Peer Education Program is a team of peer educators that offer workshops on all things gender, sexuality, and intersecting identities! Click here to request a workshop
About Us
The Peer-to-Peer Education Program, created by the Cantú Queer Resource Center, strives to educate the campus community about Lesbian, Gay, Bisexual, Transgender, Queer, Questioning, Intersex, Asexual, plus (LGBTQIA+) topics and issues. This program's focus is to educate students about LGBTQIA+ topics, which incorporates intersectional identities, like race and class, and issues on our campus in a peer to peer facilitation.. The goal of the Peer Education program is to create spaces on campus where Queer and Trans students can feel safe in their identities and supported by other students.
We pursue this goal by providing peer-led workshops and trainings. These workshops provide students an opportunity to learn about LGBTQIA+ intersectional identities, topics and issues in a structured environment. Each workshop is led by a team of Peer Educators who tailor the facilitation to their audience. Past workshops have included: navigating the gender binary, a coming out panel, gender and sexuality mapping, queer sex ed, pronouns, asexuality, and many more. We also pride ourselves in our ability to create new workshops specific to the needs of an organization or campus unit.
Requesting a Workshop
To request a workshop, please use this request form
Once submitted, a Peer Educator will contact you to set up a meeting to go over the details of your request. In the meeting, we will determine what learning outcomes you wish to achieve and how to best meet them. Our Peer Educators will discuss possible activities with you and decide if it is appropriate to use an activity already in our repertoire or if new content should be created. Please allow two weeks minimum in between the submission of the workshop request form and the actual workshop/training in order to give our Peer Educators enough time to prepare a well organized and thorough workshop.
For questions/concerns contact ucsclgbtpeered@gmail.com
LGBTQIA+ Peer Education Team 
Professional Staff:
Travis Becker: Director at the Lionel Cantú Resource Center
Sy Simms: Trans Education Specialist
Lead Peer Educators:
Jay: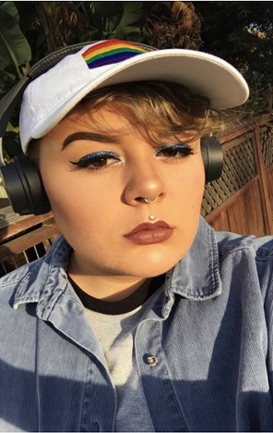 I'm Jay (they/them/theirs) and I'm one of the lead Peer Educators, specifically the CUIP LGBTQ+ Education Coordinator for the Peer Ed Program! I'm a fifth-year Feminist Studies major and a transfer student (s/o community college). In my free time I enjoy hanging out with my weirdo munchkin cat, Cabbage, and being a part-time queer farmer. I also am a closeted poet! I love getting tattooed, playing with masculinity/femininity and being gay gemini sun 24/7. Let's be IG friends @jaysgauthier or say hi to me at the Cantú!
Jules: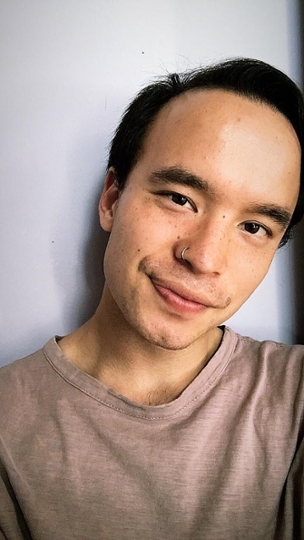 Jules (mix of pronouns/they/she/J...) is one of the Lead Peer Educators for the LGBTQ+ Peer to Peer Education Program. They are also double majoring in Feminist Studies and Community Studies, and particularly interested in how to use dance and movement as a tool for explaining/exploring/experiencing revolutionary thought and embodiment. She is a Pisces sun, Scorpio moon, and Cancer rising, and loves drinking tea with people. When they are not working or studying, you can find J wandering the redwoods, petting other people's cats, or sleeping.
Quinn: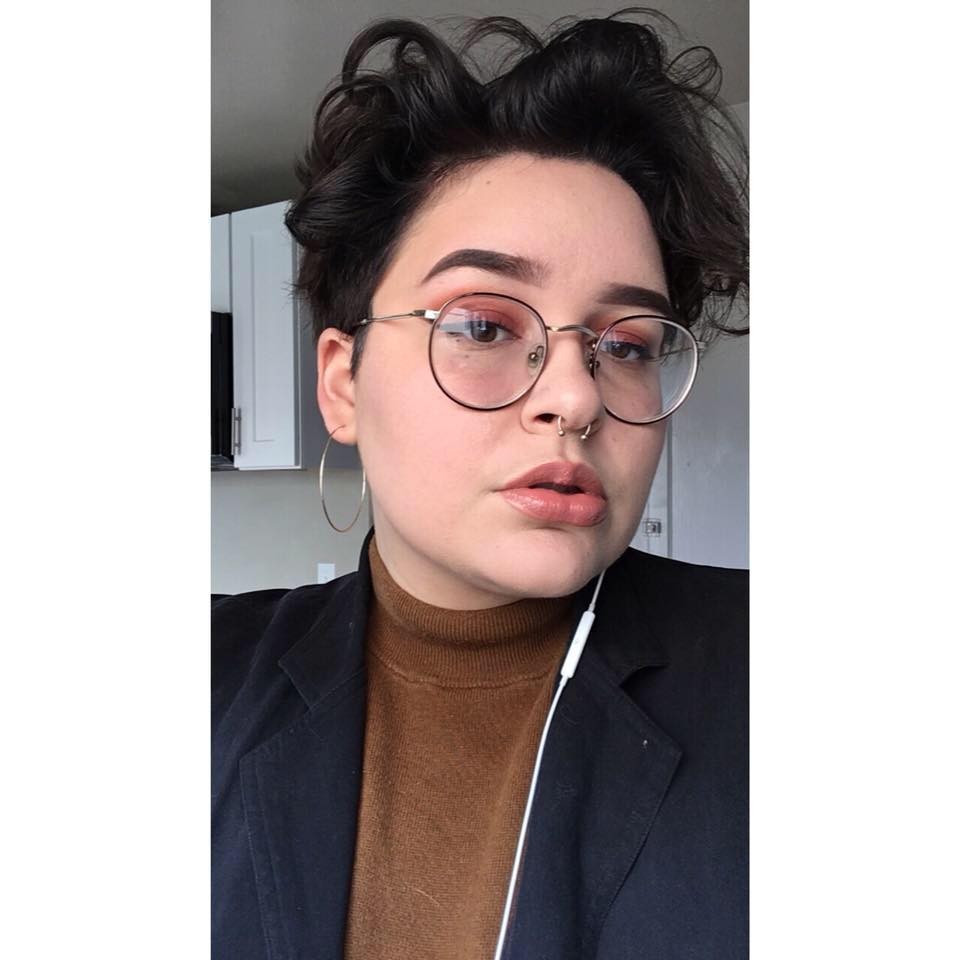 What's popping? I'm Quinn (they/them/theirs) and I'm one of the lead Peer Educators for the LGBTQ+ Peer to Peer Education Program. I'm in my fourth year of college. When I'm not stressed out by all things Intensive Psychology, I enjoy writing poetry, designing zines, watching horror movies, and talking about brujería and astrology. Swing by and talk to me about feminist theory or queer theory at the Cantú!
Peer Educators:
Ale:
Hi! My name is Ale (Ah-leh) and I'm a fourth year sociology major and a Peer Ed intern. I'm a queer agender mexicanx and I use they/them/theirs pronouns. My sun is in pisces and so is my moon, so if you ever want to really sit in ya feelings i'm always down. Feel free to follow me on instagram @gendervoid :~).
Maddy: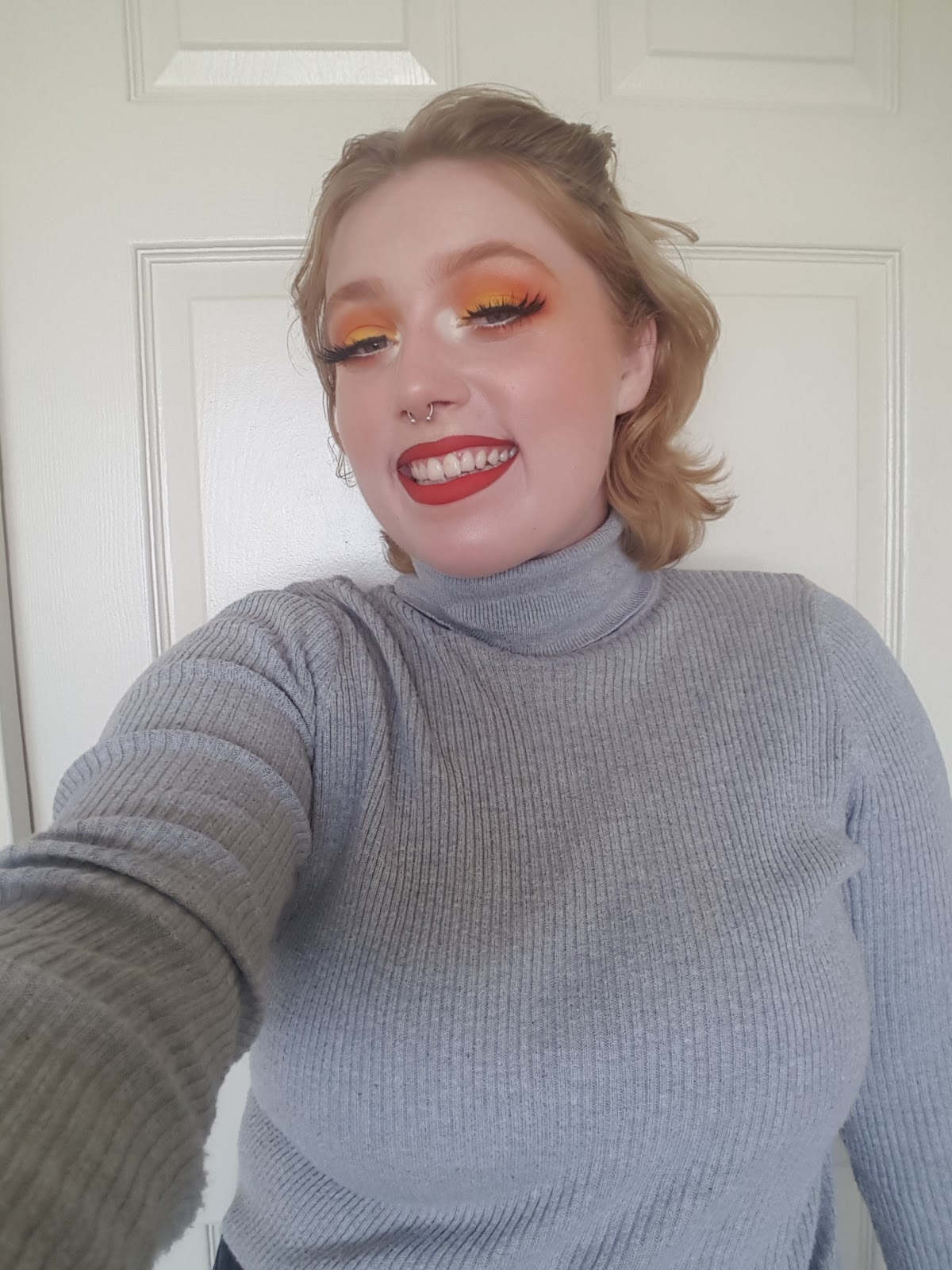 Hi everyone! I'm Maddy (they/them/theirs or she/her sparingly) and I'm a fourth year Community Studies major from Oakes College. When I'm not working or studying I love to hang out with my cat, watch period dramas about broken down white ladies, or do funky makeup.
Meryem: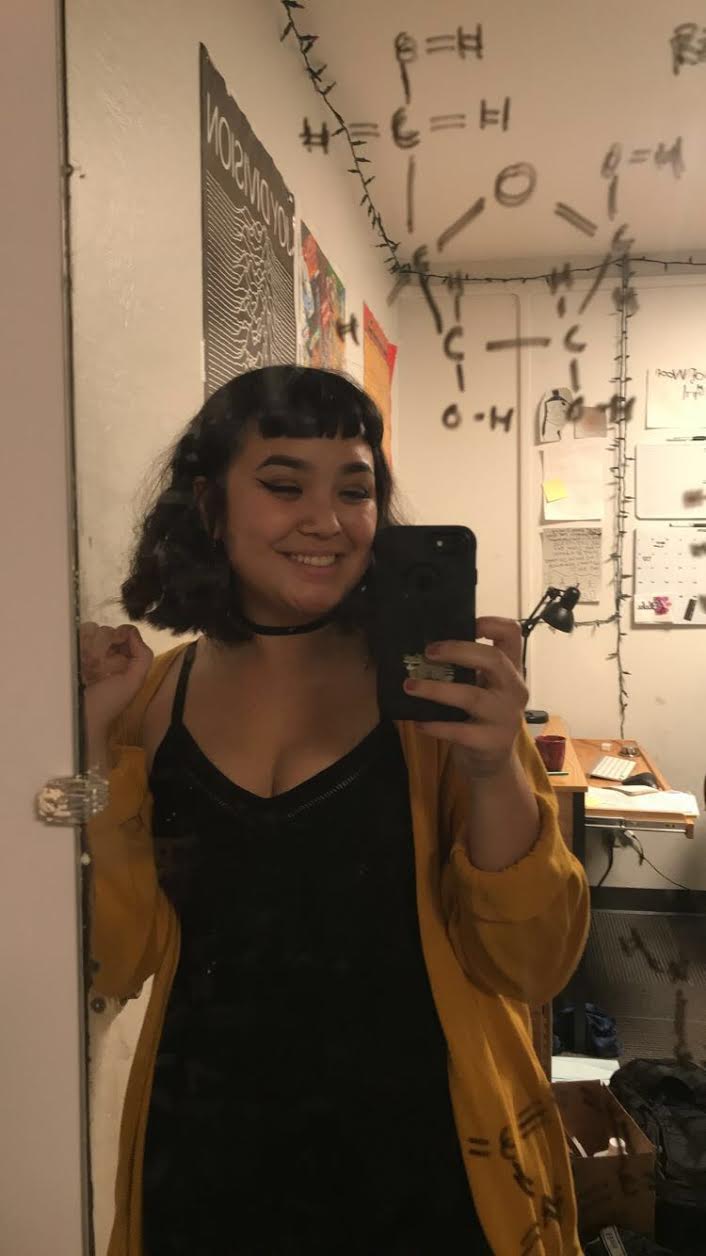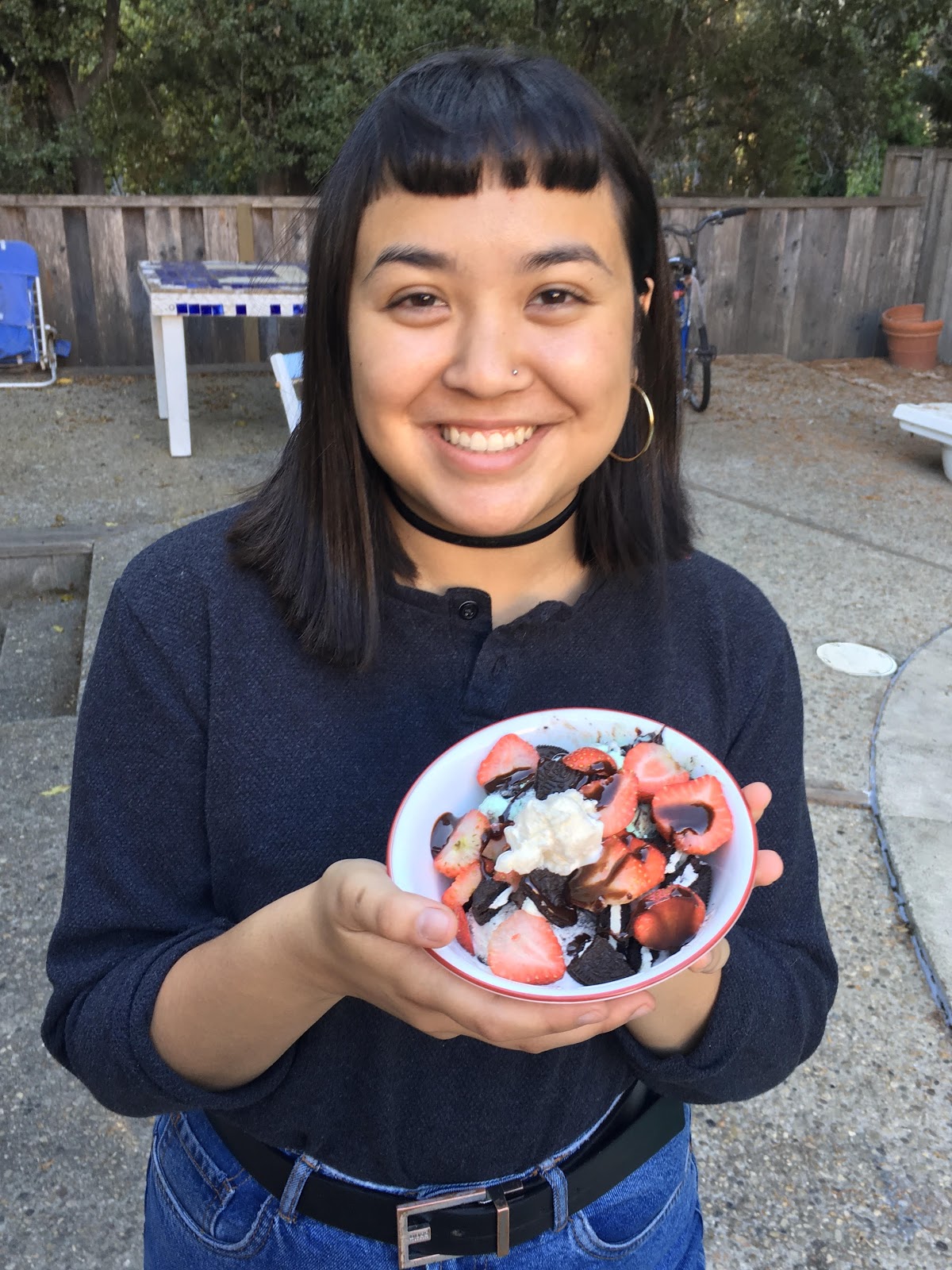 Hey y'all, I'm Meryem (she/her/hers). I'm a second year psychology major and an Oakes affiliate. I love to express myself through makeup and fashion. In my free time, I like to eat veggie sushi, journal, watch netflix, and pet any cats I can!
Shmar:
I'm shmar (they/them/theirs/...or whatever), I'm a peer ed intern, and I can't tell you how to say my name...but say it right!
Skp: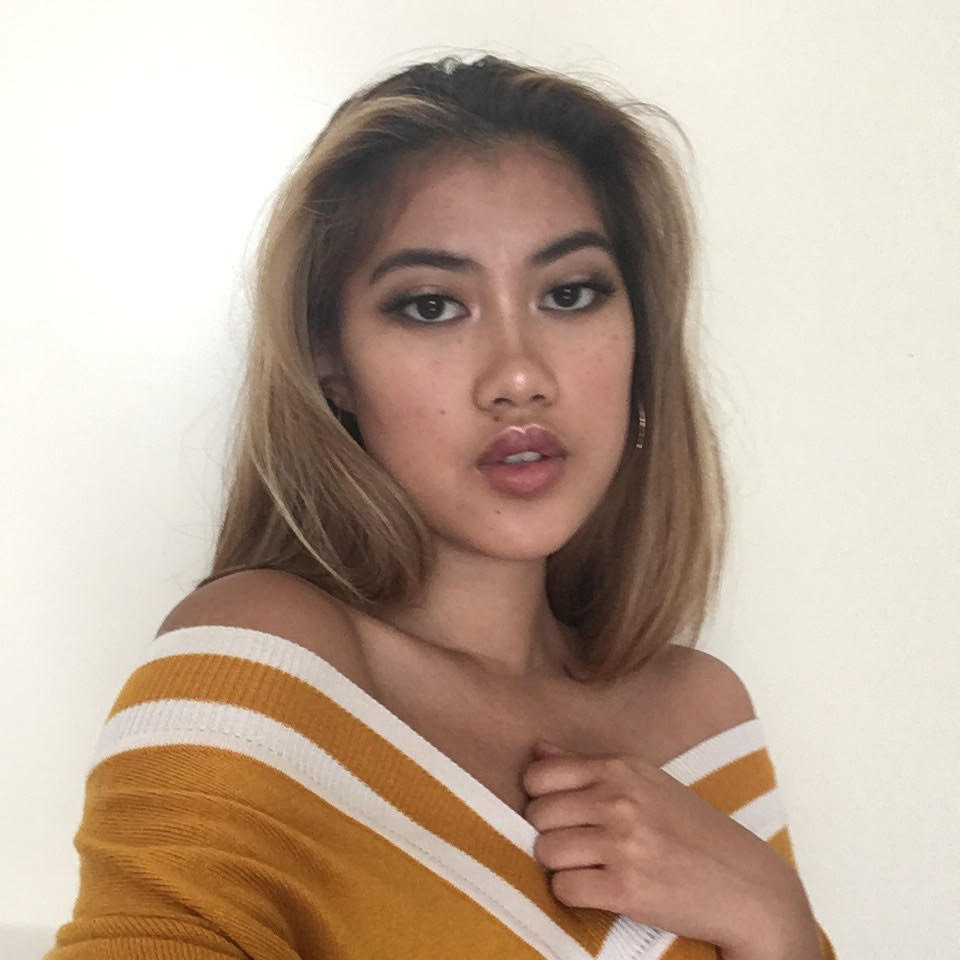 Hey everyone!! I'm Skp (pronounced as skip) and a third year cognitive science major. I use she/her/hers pronouns and have been a peer ed since the spring quarter of last school year. I like competitive cooking shows and the Myers Briggs personality test.