Our Logo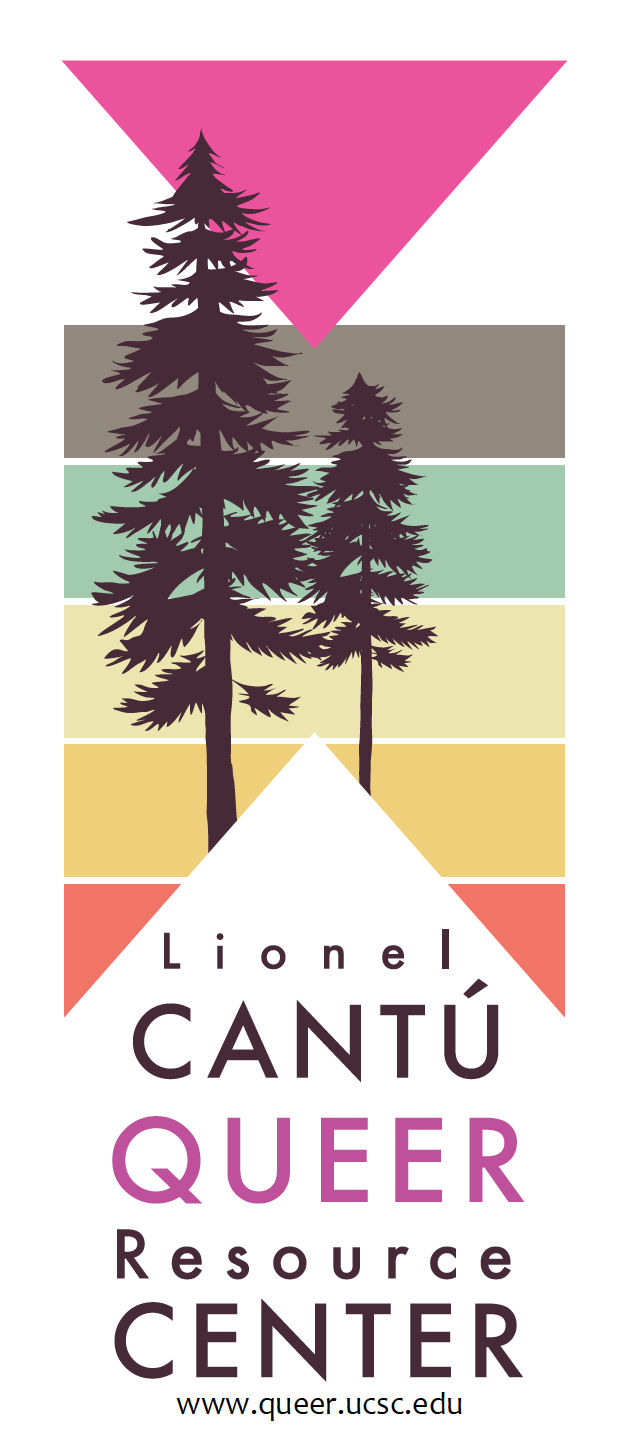 The Lionel Cantú Queer Resource Center logo was designed by a UCSC alumnus in 2016. The logo features key design elements that tell stories about the center, UCSC's campus and LGBTQIA+ history:
Pink Triangle: The pink triangle

has been a symbol for various

LGBTQ

identities, initially intended as a

badge of shame

, but later

reclaimed

as a positive symbol of self-identity. In

Nazi Germany

in the 1930s and 1940s, it began as one of the

Nazi concentration camp badges

, distinguishing those imprisoned because they had been identified by authorities as

homosexual

men, 

a category that also included

bisexual men

and

transgender women

. 

In the 1970s, it was revived as a symbol of protest against

homophobia

and grew more popular throughout the 1980s and late 90s as HIV and AIDS activist groups like "Act Up" often displayed the symbol at protests. It has since been adopted by the larger LGBTQ community as a popular symbol of

LGBTQ pride

and the

LGBTQ rights

movement.

Redwood Trees: A gesture to UCSC's stunning campus, and particularly to the Redwood trees that surround and nestle the wood cabin that the Cantú has called home since 1997. 
House/Cabin shape: Many who visit the Cantú center up near Crown & Merrill colleges, remark at the warm, cozy cabin and tree-house-like feel of the physical building. Indeed, we do like to celebrate the tree-house nature of this beautiful space. After all, tree houses are where young people go to reimagine worlds, rebuild concepts of family, escape, find safety, dream, and learn through play. These are also all ways that we hope people come to engage with a queer cabin in the woods that many lovingly call "The Cantú."
Pride Flag Colors: While the center's primary logo is in muted colors and does not represent any one pride flag or community, the logo was designed to allow for the colors of various pride flags to be shown behind it. The LGBTQIA+ community is a diverse and beautifully expansive community and there are a variety of pride flags for different communities within the queer and trans diaspora. We wanted as many of these communities as possible to see themselves reflected in the Cantú logo, and by extension, welcome and included at the Cantú. Check out some of the pride flag variations below.